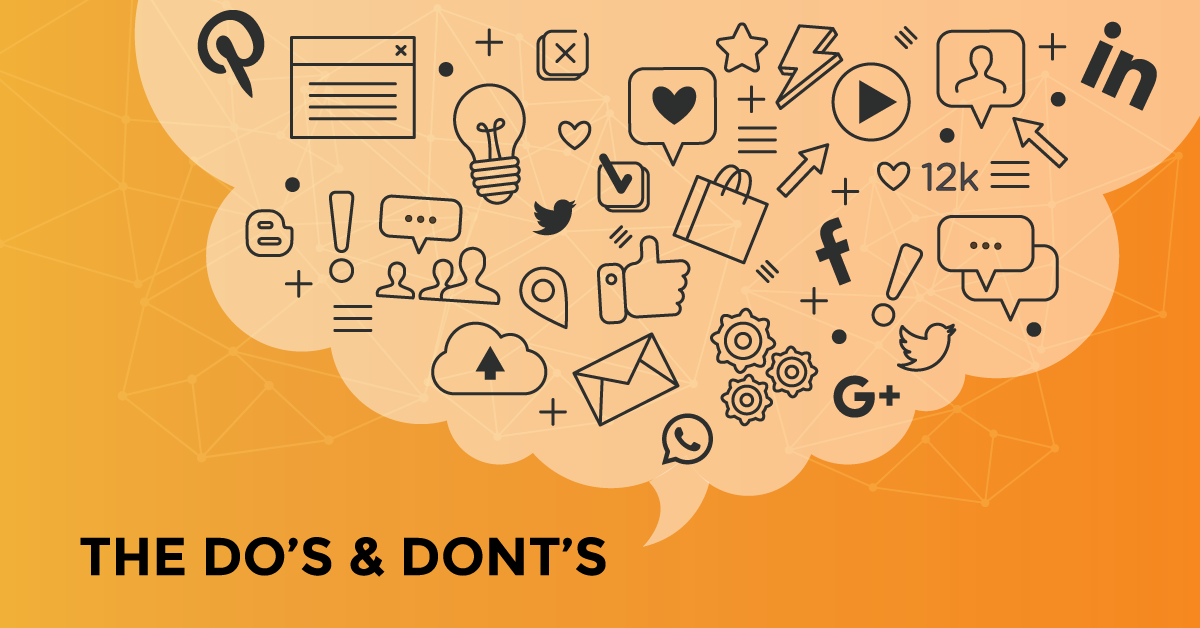 Posted on January 17, 2017 at 11:00 AM
We don't have a choice whether we do social media, the question is how well we do it
– Erik Qualman.
A brand is no longer what we tell customers, it is what customers talk about the brand to one another. Research shows 74% of marketers saw an increase in website traffic after investing just 6 hours per week on social media. Just 6 hours a week is all you need to improve your brand awareness. Everything you post on social media impacts your personal brand. How do you want to portray your brand is the big question?
Social media has become the internet. What happens on social media stays in screenshots forever. The essence of social media is knowing your audiences and engaging them in something they love. 51% of the people talk to people online than in real life. This 51 % should be your target.

The goal of social media is to turn customers into volunteer marketing army
– Erik Qualman.
Social media is the connection between your brand and your potential customers. Any potential customer before looking for a new product or service research on social media. They observe what others are talking about your brand before forming an opinion. Hence, It is of utmost importance for a brand to have certain social media guidelines.
How to find the voice?
Here are basic Do's and Don'ts of social media branding: 
Do's:
Planning is the key –
First things first, understand your brand, the voice of your brand. You know your brand the best. Secondly, know who your target audience is. Once these two mysteries are solved. Communicate. Whatever platform you decide to use, spread your story first. The rest of the rules come down to language, tone, other things that you might do to create a buzz on Twitter, Instagram or Facebook.
Maintain consistency –
Consistency is the key to engagement. Make sure your ideas reflect your brand story. But make utmost care that there is consistency in your message across all channels. There must be a certain set of rules to be followed while engaging with your customers. The colours, types of images, and fonts should all reflect the persona of the brand to promote strong brand awareness.
Timing IS important-
Pay attention to timing. There is no one perfect time to post. It is all what time your audience engages more. It also depends on the kinds of posts. Keep experimenting on this and you'll find your perfect time.
Get rid of the corporate jargon
Marketing is about the stories you tell your customers. The social networks like Facebook, Instagram and Twitter gives brands the freedom to shed their corporate layer and connect with customers. Use these channels genuinely and let your brand personality shine and humanize your brand.
Keep experimenting
Your brand's social media bio is the gateway to your new customers. Make sure to create the first impression. Test the waters with your social media team. Fan out a variety of concepts to see what works with your audience and what doesn't. Experimenting helps to create an audience data. Finally, make changes and additions. Social media has the potential to make or break your business. Use strategies that drive people toward your brands.
Don'ts:
Don't try to be at ALL places at a time
Social media isn't one-size-fits-all. It is good to have an account on channels relevant to your brand. This is not the end though. It's important to engage with your target audience and not sign up for the sake of it. If you want to drive more engagement then Facebook, Twitter, Instagram is your option. If you are a Make-Up artist having a strong Instagram account and Facebook presence can do wonders for you. Don't try to be everywhere.
Don't be over-active
One of the most crucial questions brands have is, "How often should we post on social media?" There is no certain answer to this but one must post enough to stay in your customer's social routine. Too many posts on social media can overwhelm or annoy people. Information can get lost in your follower's news feed and hence they might stop following your posts.
Don't forget to network
Posting images is not the only interaction you can do on social media. Build connections and grow your brand by networking and building quality relationships with your followers. The goal of social media is to get people talking about you. Build a community for your brand. Once you've achieved that just sit back and let your army do the marketing for you.
Don't Spam
Just don't. Nobody likes spam, whether it be via email or social media. Don't post the same post repeatedly. If you do so, you are risking your brand goodwill. All the hard work that went into creating a voice for your brand will all go in vain.
Don't ignore your followers
The purpose of social media is interaction. Hence, it is vital to engage with your customers. Social media is a two-way street. It is your responsibility to make your followers feel important. Don't ignore comments. Use them as an opportunity to interact with your followers. Addressing negative comments shows that your company is proactive in resolving issues. On the other hand, letting questions go unanswered is embarrassing and shows that you don't bother about your followers.
To sum it up, don't say anything online that you wouldn't want plastered on a billboard with your face on it. Keep in mind that social media is constantly changing within the hour. Make your presence count. If you think your business can work without social media, let us change your opinion! Connect with us on [email protected]